Mirror Vastu Tips: Follow these tips to Get Rich and Happy Soon!
Mirror has been a very important object of the households since ages. There used to a curtain over the mirror and it was opened only when mirror was supposed to be used. Rest all the times it was closed and people avoided using it.
Mirror Vastu Tips
In today's life too many households have this routine. A mirror may look insignificant but it can bring lots of positivity in your home and in your life. In vastu it is considered to be very significant.
One should keep the mirror in the right place and direction. In vastu directions are very important and thus because mirror is a very important part of vastu hence the directions of the mirrors should be very correct.
Mirror Vastu Tips – Positive effects of Mirrors
One should keep mirror opposite to the safe locker. It is believed that it will help in getting more money and may double the money in your safe.
Putting mirror in the north direction is supposed to give a lot of wealth as it is the direction of lord Kubera. Thus one should keep the mirrors in this direction.
Businessmen should keep the mirror adjacent to the cash box which will surely help in increasing the money and will generate more customers.
In the bathroom, mirrors should be used on north or east walls. This will be good for removing negativity and will also give better health to the native.
In the dressing rooms mirrors should be above 4 feet of the ground level.
Mirror Vastu Tips – Negative effects of mirrors
Do not place mirror is the south east direction. If you have kept a mirror there then you should remove it and place it in the direction told above. This will trigger more quarrels because south east is a fiery direction.
No two mirrors should be in the same room otherwise there will be useless quarrels and doubts.
One should not keep mirror in the way that it faces north or east as they are good directions and keeping mirror in such a way will make positive energies fade away.
It is better not to keep the mirrors in the bedrooms.
Mirror should not face the entrance of the house.
Few more facts about Mirror Vastu:
The mirrors should be in rectangle or square and one should avoid oval and round shaped mirrors. If you are having sleep disorders then keeps a small 3 inch mirror below your bed over the mattress facing you and you may get some relief in the same.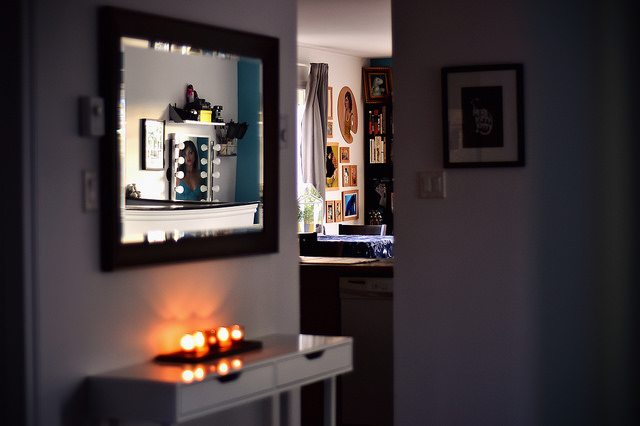 Mirrors should never be kept in the dark. One should not keep the mirror in such a way that the image of the self is visible on the mirror. If you have a lawn in front of your home then keeping a mirror facing that lawn will attract the positive energies and will make your home much better and vibrant.
You should not put a hanging mirror in the room where there is student working for his studies as this will distract the person and there will be no focus in him. Do not keep a mirror near a staircase. One should not use rusted, broken mirrors ever as it is considered very bad in vastu.
Using these small things can help you a lot in improving your life.